PEUGEOT RIFTER
The PEUGEOT Rifter has a robust and assertive style. Its modern high-tech interior, with great levels of comfort and adaptability, will ensure new experiences.
ADVANTAGES OF AN ELECTRIC ENGINE
DRIVING PLEASURE
Full electric driving delivers new sensations:
Up to 172 miles of range (WLTP)
A smooth drive without vibration
Sharp acceleration thanks to immediate engine torque
A quiet engine offering a serene driving experience
0g CO2 emissions in driving phase
0g/km CO2 EMISSIONS
Enjoy greatly reduced motoring costs:
Energy cost lower than fossil fuels
Low cost of use thanks to reduced maintenance
Government subsidy of up to £2,500
Use of ECO mode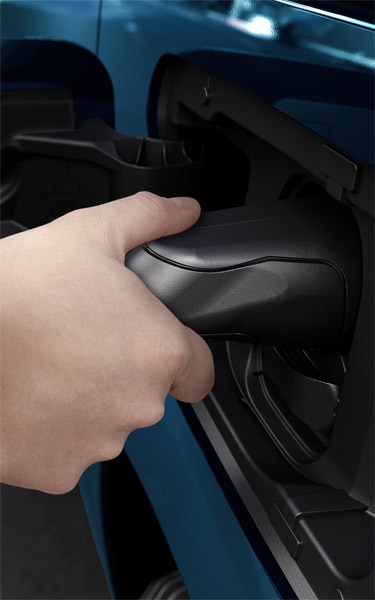 THE SERENITY OF E-MOBILITY
Functions that simplify everyday life:
Simple and intuitive charging: 0 to 80% range in 30 mins
Access a free 6 month charging subscription with bp pulse.
Manage battery charging or the pre-programming of the heating remotely thanks to MyPeugeot.
Hire a combustion engine vehicle at a competitive rate with Mobility Pass
DISTINCTIVE DESIGN

New 100% electric PEUGEOT e-Rifter, as easy to handle in town as it is efficient on the open road. In the city, it moves freely into restricted traffic areas.

SIGNATURE STYLE

A great legacy displayed with pride. With a front end which adopts the sporty styling offered by our latest PEUGEOT models and its iconic rear lights, the PEUGEOT Rifter is very much an icon of the brand.

DESIGN

DESIGN
SIGNATURE STYLE

Elegant, robust, agile and powerful, the PEUGEOT Rifter is a byword for versatility. With its short, high bonnet and increased ground clearance, it adopts the strong styling of a vehicle that can take on all road conditions.

DESIGN
DRIVE STATION
DRIVE STATION
AN INVITATION TO DRIVEPEUGEOT i-Cockpit®, a temptation to drive
With the PEUGEOT i-Cockpit®, discover a more agile and instinctive driving experience thanks to the compact steering wheel, head-up instrument panel and large 8'' touch-screen*. Keep control on the road by taking advantage of your commanding position.
As standard from Allure
e-RIFTER DIGITAL DISPLAYS

The e-Rifter is equipped with a 100% digital instrument panel. A 10 inch high definition digital screen is fitted in the instrument panel. The display of information incorporates the latest developments in terms of graphic design of the PEUGEOT brand and is entirely configurable and customisable.

The large 8" touch screen allows you to access the "Electric" menu via a dedicated button:

"Flow" to view the live energy flow
"Statistics" to display consumption statistics
"Charge" which allows you to schedule a deferred charge

CONNECTED 3D NAVIGATION

The connected 3D navigation with voice recognition and real-time traffic and risk area information from TomTom Services allows you access to a whole range of services that will make your drive easier. Get an overall view of what's around you on the touchscreen.

THE WORLD AT YOUR FINGERTIPS

With the Mirror Screen function on the PEUGEOT Rifter, you can use the compatible apps on your smartphone on the leisure activity vehicle's touchscreen.
LATEST GENERATION ENGINES

The innovative engines on the PEUGEOT RIFTER combine performance with economy. The latest generation Diesel BlueHDi and PureTech petrol engines offer greater pleasure for a driving experience.

The RIFTER leisure activity car comes with a BlueHDi 100 engine with 6-speed manual gearbox or PureTech 110 S&S engine with 6-speed manual gearbox which are also available in very-low consumption versions for optimal fuel economy.


ENGINES
MANOEUVRING AIDS

With the various manoeuvring aids on the PEUGEOT Rifter, you'll benefit from even more freedom and driving pleasure. Visio Park 1 reversing camera, latest generation Park Assist and blind spot detection Be prepared for all eventualities.

DRIVING AIDS

Take on your journeys with ease. Comprehensive road sign recognition and speed limit recommendation, adaptive cruise control with Stop function, active lane departure warning system, hands-free entry and start-up (PEUGEOT Open & Go), electric parking brake.

GRIP CONTROL

With Advanced Grip Control, driving the new PEUGEOT Rifter offers even greater traction for an added sense of escapism. Choose between five grip modes (Standard, Snow, Mud, Sand, ESP off) using the rotary dial on the centre console.

HILL ASSIST DESCENT CONTROL

With the HADC function of Advanced Grip Control, the 7-seater PEUGEOT Rifter is able to maintain a low speed on steep slopes. This means you can remain focused on your direction and benefit from increased safety, comfort and control.

TECHNOLOGY

TECHNOLOGY

TECHNOLOGY

TECHNOLOGY
RANGE & CHARGING

Range and battery charge of the PEUGEOT e-Rifter lets you travel up to 172 miles (WLTP ). The WLTP protocol gives users a more precise and realistic vision of range values according to actual use of the vehicle.
CONNECTED SERVICES
The list of services is long, and the advantages are limitless. Discover how PEUGEOT does connectivity.
MYPEUGEOT®: STAY CONNECTED TO YOUR VEHICLE

Make the most of tailored services that are synchronised with your account in real time, thanks to the free MyPeugeot®* app:

Keep an eye on the status of your vehicle (driving data, location).
Get assistance quickly and easily.
Manage the maintenance and servicing of your vehicle.
Easily manage the charging of your battery and the on-board temperature of your PEUGEOT.

MYPEUGEOT®: REMOTE MANAGEMENT

From your smartphone, you can remotely control and schedule a number of functions, such as battery charging and pre-programming the heating in the interior.

FREE 6 MONTH CHARGING SUBSCRIPTION WITH bp pulse

Every all-electric PEUGEOT comes with a FREE 6-month charging subscription through bp pulse, the UK's largest and best performing public charge network operated by BP Chargemaster.

MOBILITY PASS

When considering an electric car, we know that customers can be concerned about those occasional longer journeys, such as holidays. With Mobility Pass, we've got you covered – with an allowance for alternative vehicle rental build in to your electric car finance agreement.
FOR BUSINESS

The PEUGEOT Rifter has a strong personality. Its modern high-tech interior, with great levels of comfort and adaptability, will ensure new experiences and meet the demands of professionals.

BUSINESS